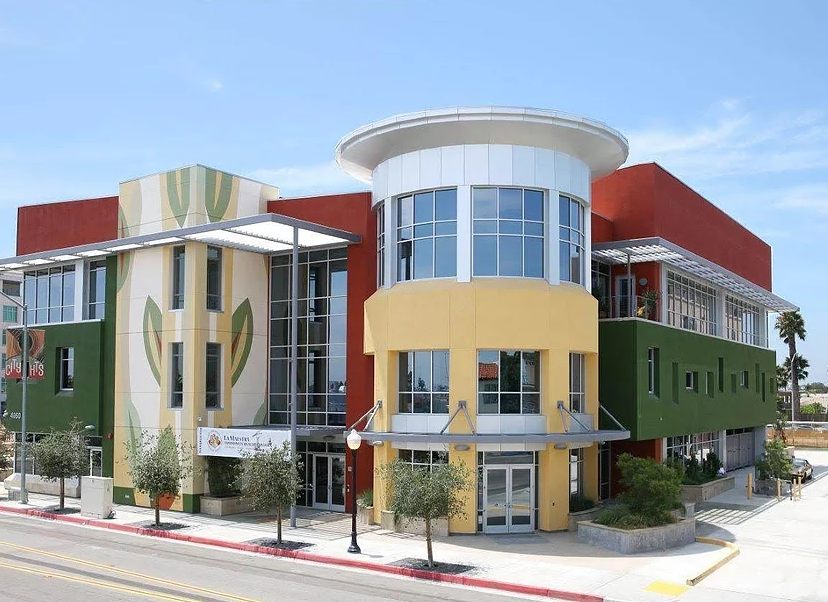 La Maestra's Main Clinic Site
City Heights is home to the original La Maestra Family Clinic. Located in the heart of the community, the 34,660 square-foot, three story, LEED Gold Certified facility provides the full spectrum of La Maestra Circle of Care™ services in one convenient space. The HOPE Clinic for the Homeless, two additional dental suites, the Wellness Supportive Services (WSS) department, and the Community Health Access Department (CHAD) are conveniently located within a one block walk of the main clinic. The mobile mammography unit stays on-site several days per week for medical imaging services. Social services such as legal advocacy, transitional housing, financial literacy, job training and placement, microenterprise and microcredit programs, a community garden, Healthy Choices Food Pantry, obesity prevention services and health education are offered on-site through the partner La Maestra Foundation. Please see the La Maestra Foundation tab for more details.
4060 Fairmount Avenue, San Diego, CA 92105
​
Hours of Operation:
Monday – Friday 8:30 a.m. – 6:00 p.m.
Saturday 9:00 a.m. – 2:00 p.m.


Primary Care
Family Practice: 619-255-9155
Pediatrics: 619-255-9154

Specialty Care
OB/GYN: 619-280-7072
Imaging/Radiology: 619-269-1299
Pharmacy: 619-564-7013
Referrals: 619-269-1262
OB Referrals: 619-564-7016
Laboratory: 619-961-0806
Optometry: 619-961-0802
​
Mental Health
Family Wellness Unit: 619-564-8765
Wellness Supportive Services: 619-285-7097
Social Services
Health Education: 619-564-8139
Legal & Immigration Services: 619-564-7010
Community Health Access: 619-269-1254
​
Billing & Records
Medical Records: 619-578-2580
Medical Records Fax: 619-284-4731
Medical Billing: 619-280-1105
Dental Billing: 619-546-8364